Cosplay
Posted by Deb McCall on
Cosplay 
As we were young we all up as superheroes and firefighters, princesses and dragons, there was even that one time you dressed up as a food item.
Over the years as blockbuster films have become more and more popular people have started dressing up as iconic fictional characters from movies, tv shows and cartoons. Dress up has been a huge part of all of our childhoods but what exactly is cosplay and how is it set apart from putting a costume on for Halloween or any other kind of play pretend?   
Cosplay is made up from the words 'costume' and 'play'. Cosplay originated in Japan but has become popular across the world in the past few decades.
Cosplay is not just about looking the part of the character from the accessories to the hair and eye color but also acting like the character. As a result a cosplayer may know an awful lot about their character such as their likes, hobbies and quirks. Cosplayers may also learn new skills in order to dive further into their character, it is much like an actor settling into a role. 
Cosplaying is different from LARPing, Renaissance costuming, and professional costume design.
LARPing stands for Live Action Role Playing, this is a very extensive form of play that requires a group of people. Say a group of people are Role Playing Star Wars; each individual will cosplay as a jedi, bounty hunter or other character or creature from the Star Wars universe and then play as if that world is real and they are living it.  
Renaissance costuming is much the same except it is historically accurate costume play. From renaissance costuming come historical reenactments of events from jousting during king Aurther's reign to the more recent civil war. Some reenactors may need to learn special skills such as horse riding and varying fighting styles. 
Finally, Professional costume design has very little to do with acting and more to do with creating the most accurate costumes possible from the types of material used to the way the items were put together.
While each of these dress ups and play are significantly different and some require different levels of knowledge and skill, all of these art forms go hand in hand. 
Why Do People Cosplay? 
Because its fun! Some cosplayers compete in contests with the goal of making it to the World Cosplay Summit. Others do it as a hobby because they enjoy the process of making the costumes and showing their work off. There is next to no money in cosplaying, it can be expensive and a lot of work but just like all art, it can be a rewarding and really fun experience.
The cosplay community is a good place where people can come together and geek out about their favorite fandoms and characters. It brings many opportunities for connection and friendship through sharing what we love.  
Most times, you will see cosplayers at pop culture conventions like ComicCon or others more specifically geared towards science fiction, gaming and anime. However some people will cosplay just about anywhere if they feel like dressing up and showing off their costumes. Cosplayers have a growing precents in the media through TikTok, Instagram and YouTube where they will share pictures or do skits as their characters. 
Image credit: Tik Tok @bubbly_pip 
How Do I Get Started With Cosplaying? 
There are so many places to get started with cosplaying. It is rare for a cosplayer to find their full outfit in one area, you have to consider the clothes, the accessories, props, wig, make up and maybe even contacts. There can be a lot of components at play especially if you are cosplaying a video game character or an anime character. As a result most cosplayers make their own cosplays. 
You don't necessarily have to start from scratch to create a cosplay. If you are not into sewing or crafting that's ok! The most important thing to keep in mind is that just because something is not a costume, this does not mean it cannot be made into one. Regular clothes and household items can be made into usable components for your cosplay. Wigs and jewelry of all kinds can become exactly what you need to complete your character.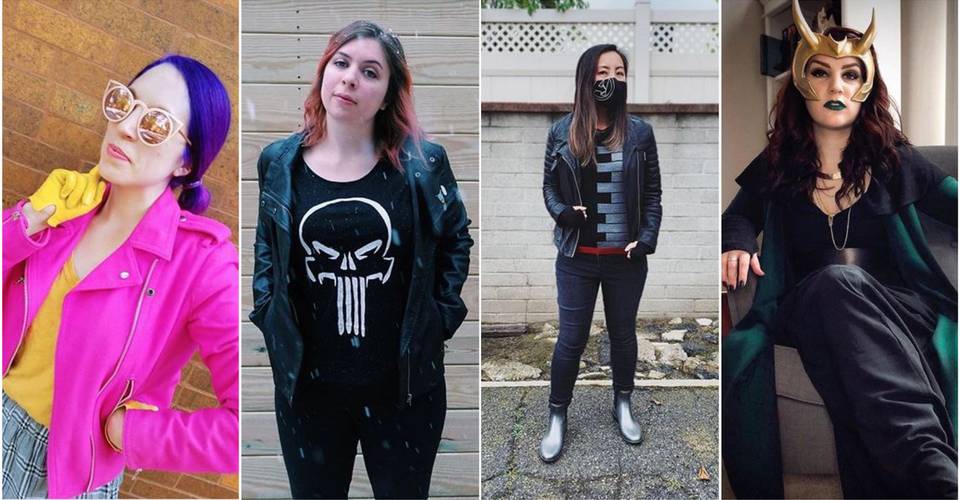 You do not need a specific character or even a set fandom in order to cosplay. Many people will cosplay their OCs (Original Characters) at comic cons and others will simply create a character on the spot for no other purpose then to dress up and have fun. You can be a Disney princess by simply dressing in elaborate gowns or maiden's garb. You can be a Star Wars hero with simply a weapon and simple to elaborate hair and makeup. Cosplay is the one place you can become whoever you want for no other reason than to share in art and creativity, there are no set rules except to have fun!  
We at Next Stone Age have a line of cosplay jewelry that was inspired from various video games and fandoms and could just be what you need to get started on your costume or even add the finishing touch. Visit our website at https://nextstoneage.com/ 
Legend of Labradorite Earrings in 925 Sterling Silver Video Gamer Cosplay Jewelry https://nextstoneage.com/collections/cosplay-collection/products/legend-of-labradorite-earrings-in-925-sterling-silver 
A Mermaid's Wedding Freshwater Pearl Teardrop Earrings in 925 Sterling Silver Cosplay Jewelry https://nextstoneage.com/collections/cosplay-collection/products/pearl-earrings 
Don't be a Sea Witch Sea Shell Necklace on a Leather Chord Cosplay Jewelry https://nextstoneage.com/collections/cosplay-collection/products/ariels-voice-ursulas-sea-shell-necklace-disney 
You can find these and other items at https://nextstoneage.com/collections/cosplay-collection 
---
Share this post
---
---
---
0 comment